For the past few years, an increasing number of businesses shifted to a feedback culture. Major brands like Microsoft, Zoom, and Hubspot have all adopted feedback cultures to great success.
A feedback culture is a business culture that encourages feedback from all employees, regardless of their job title or experience. Entry-level employees are just as welcome to share ideas as upper-level executives. It's also about giving feedback to employees to help them grow.
Not only can you get great ideas you may not have otherwise thought of, but feedback cultures also offer the following benefits:
There's a boost in employee engagement and productivity. Happy employees work harder. Feedback cultures can create engaged employees, who feel on average 20-25% more effective in the workplace.
You get happier employees who feel like they make an impact. Employee satisfaction levels go up in feedback cultures, potentially increasing employee satisfaction by as much as 37%.
You'll likely see employee retention rates increase. Employee turnover is expensive, and engaged employees stick around longer.
Facilitating a feedback culture takes time, and it starts from the top down. In this post, we're going to look at five quick changes you can make to start seeing a culture shift quickly.
1. Meet with All Business Leaders to Explain the Changes
The first thing that you need to do is get all your top-level executives and company leaders - including managers - on the same page.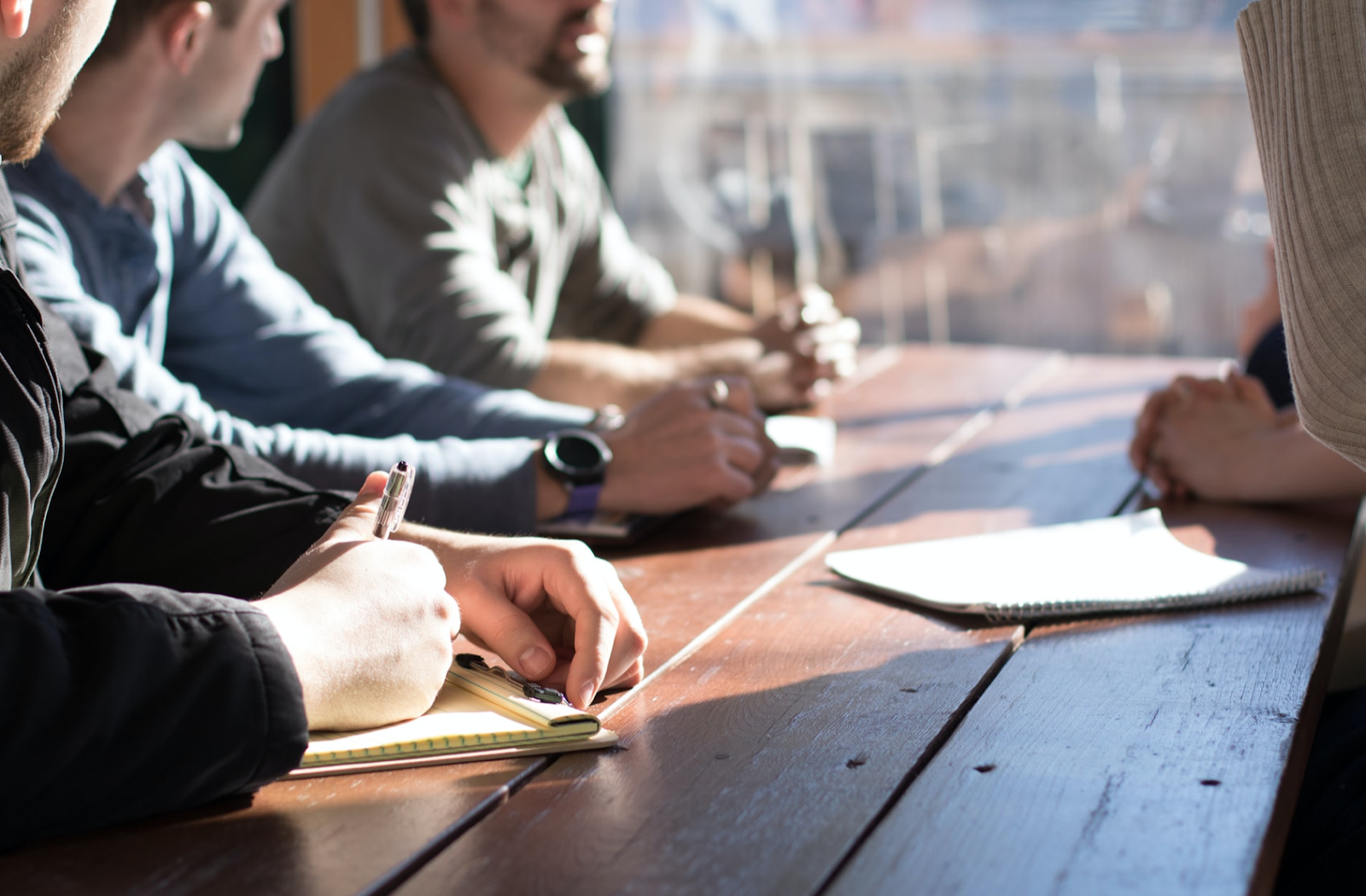 Many may already be familiar with a feedback culture. Providing information about what will change during the shift and how changes will be implemented is important. It's also a good idea to reassure everyone that the push for feedback isn't to get anyone fired, but instead is about innovation, growth, and satisfaction.
Layout internal changes that are happening and what to expect. They can prepare and ask questions, and then take that information to their teams.
2. Send Out a Memo
After briefing your leaders, send out a company-wide message that gets all team members on the same page. Again, reassure everyone that this is to allow the working environment to thrive and excel.
When sending out a memo, skip the paper notices. Choose the messaging platform that teams already use, whether it's email or a messaging platform like Slack or Microsoft Teams.
You can choose to do this after your leaders have addressed their teams. Include any resources that you want employees to see, including new company policies or links to submit anonymous feedback.
3. Train Your Leaders To Accept & Receive Feedback
This can take a little more time to implement, but it's an important step. You want to offer suggestions right away that your team leaders can implement when it comes to accepting and receiving feedback.
Let them know that quarterly reviews are a great opportunity to give in-depth feedback to employees; they may be used to this already, so it's comfortable. Encourage them to also give direct feedback to employees directly throughout the year, even if it's quick like "Excellent attention to detail on that last project."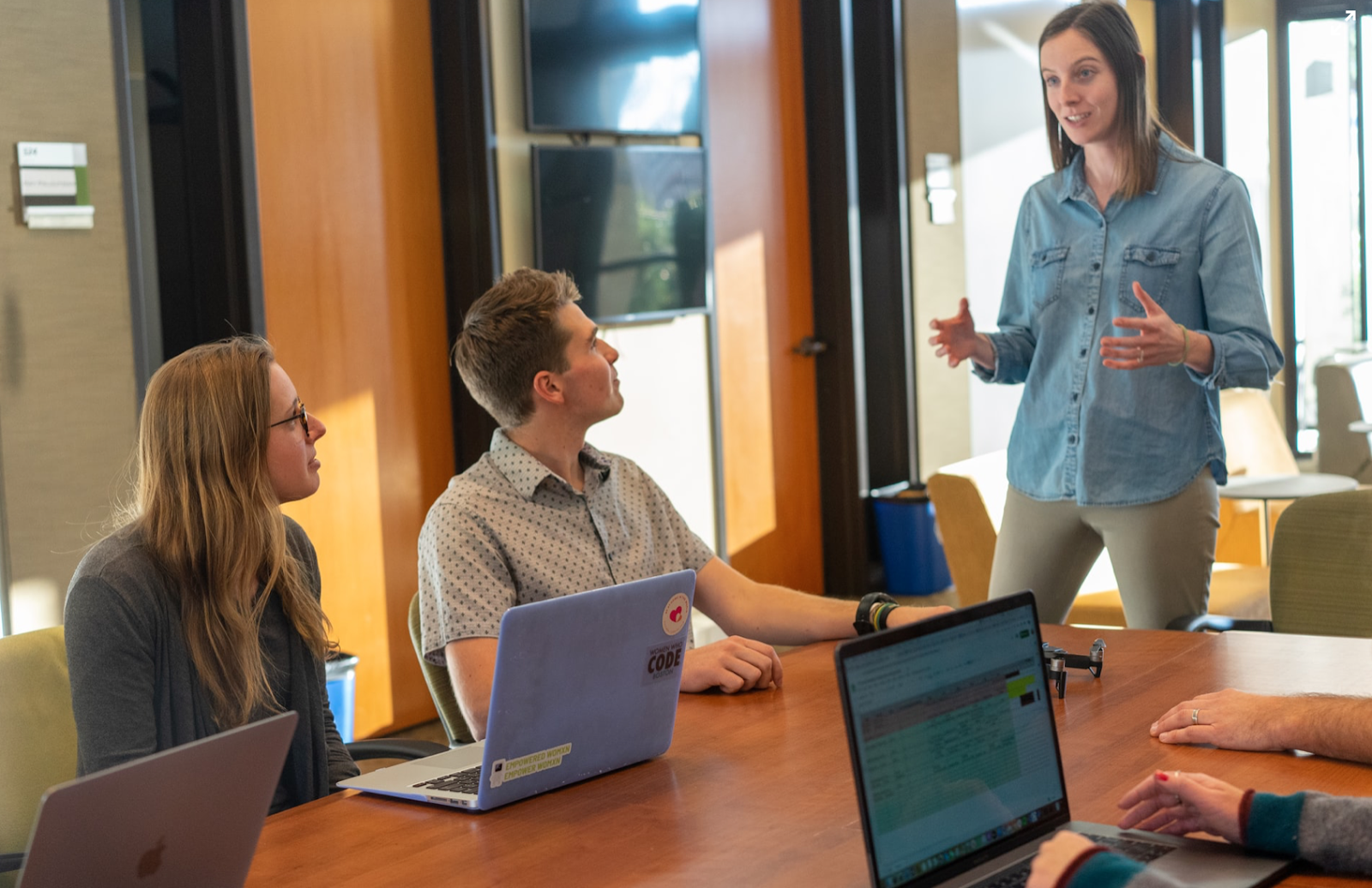 Remind them that providing fair and honest feedback will help their team members grow. Let them know what works and why, and give constructive criticism, too.
You also want to remind team leaders to start regularly inviting feedback, too. This can be as simple as reminding team members to come to them with anything and to end meetings by asking if anyone has any thoughts. Thank everyone for sharing, even if their idea doesn't work.
4. Set Up A Secure Feedback Form
Sometimes team members are more comfortable sharing feedback anonymously instead of taking it directly to their boss. This, unfortunately, can be particularly true if there's an issue with a leader somewhere in the company. And trust us – that's something you want to know about.
Even if there aren't problems with team members or leads that need to be resolved, anonymous feedback can be invaluable.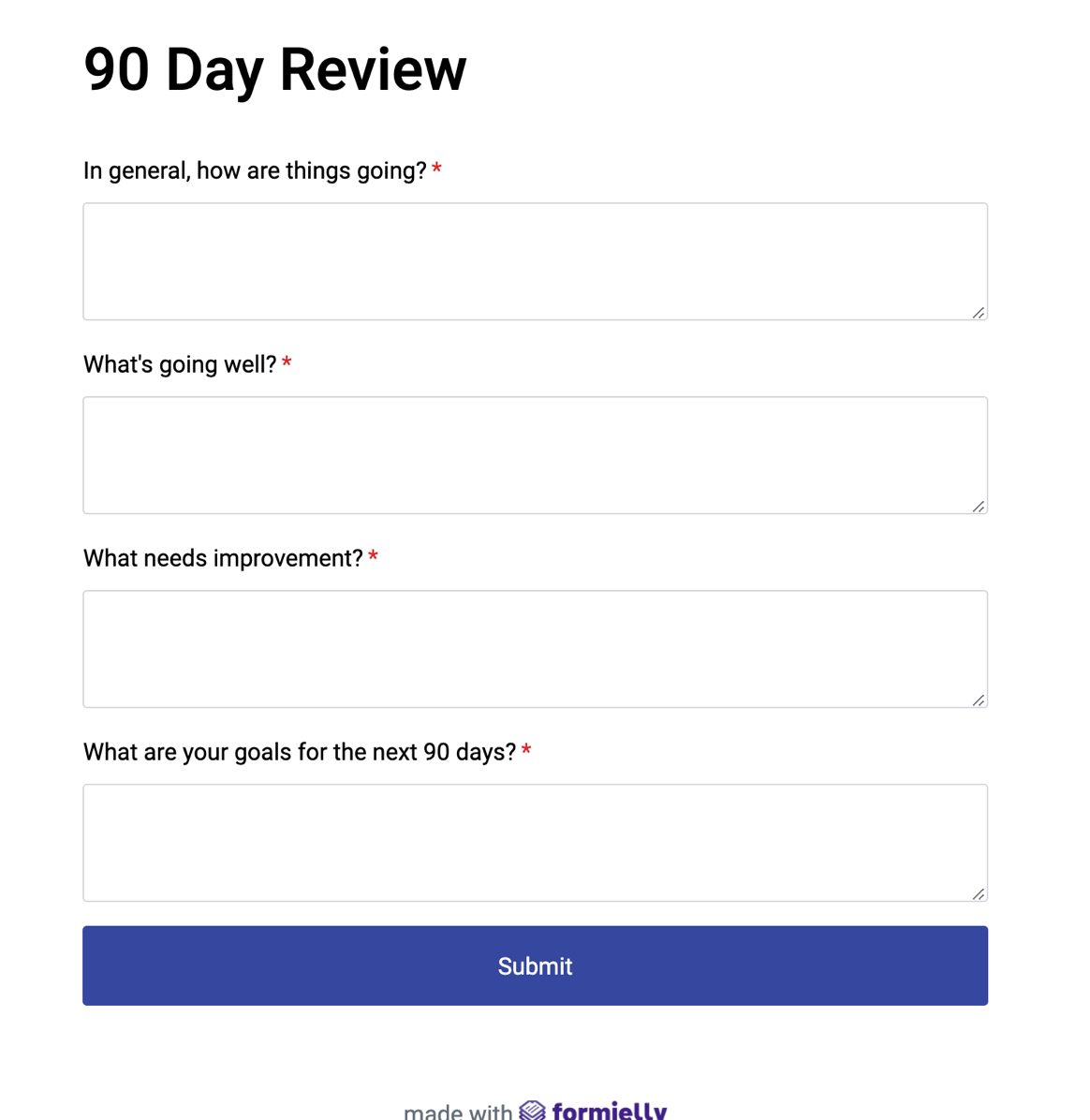 Set up a secure form that you can send out to teams at regular periods to get honest feedback about their jobs, the company policy, and more. "Secure" is the keyword here. You want to choose a form builder that won't use your business's information for its own purposes.
Formjelly can help with that. We're a secure form builder that prioritizes your privacy. The only people who will see the data will be the person who is submitting the form and the person who is supposed to receive it. You can use something like our feedback form template as a starting point for inspiration.
5. Do What You Can to Act on Feedback
This is another tip that can take time but can be implemented immediately.
Take steps to act on feedback when you can. Consider ideas that employees are bringing to you about different solutions. Think over their suggestion for new features or products to add, and listen when they share customer input.
Even small things like employees consistently saying they don't have enough time for lunch can be relatively quick to change, and make a big difference in employee engagement.
When it comes to more long-term decisions - like your sales team insisting that your CRM software isn't cutting it - let employees know that you've heard their concerns and that you've passed it on to the appropriate team members. That alone lets them know that, at the very least, their voice is being heard.
Final Thoughts
A feedback culture can take time to implement with revised company policies, but the good news is that there are a few things you can do right away to start making changes. Even relatively small changes can have a big impact when your employees can tell that you're intentional and genuine.
If you have to start with just one change, make it about gathering feedback quickly. Take a look at our secure form builder to start distributing anonymous feedback forms so your team can collect thorough and honest feedback fast.
Need help creating an anonymous feedback form that's secure and reliable? Get started for free on Formjelly.