Hosting an event? It only makes sense that you want to max out attendance.
Whether you're hosting a paid workshop online or having a massive in-person conference, creating a stellar event is only half of the battle. In order to have fully-booked events, it's important to get people informed and excited about them.
You won't have any attendance if you don't have promotional strategies in place to get the registrations in the first place.
If you want to learn about how to get more people signed up for your event, keep reading! In this post, we're going to look at reliable event registration strategies that will drive up attendance, regardless of the event type that you're hosting.
1. Look for Collaboration Opportunities
Do you have any influencers in your circle who would be happy to spread the word about your upcoming event? If you hire speakers or vendors who have large followings, that significantly increases your ability to signal boost if they're willing to share information about it even on their social media profiles.
If, for example, you're hosting a wedding expo at your venue, you can reach out to popular wedding vendors within the area and offer them a free or discounted booth. They get an opportunity to reach new clients, and they'll shoutout the event on their social media to get people to come.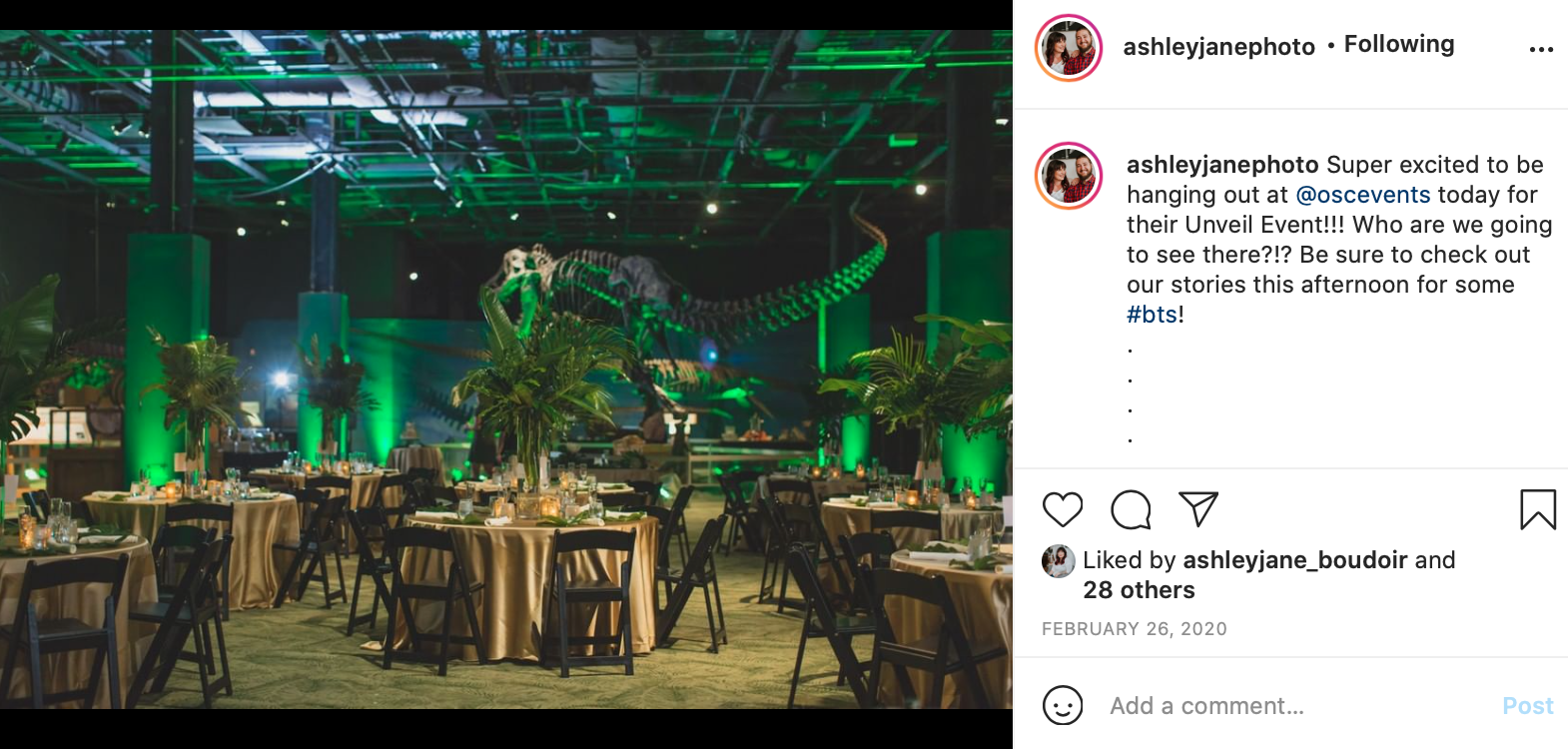 You can also think about granting free access to someone who has a lot of influence in your industry. Just ask that if they're excited about the event that they give it a mention. This is the most effective when you know the person directly.
Once you've got the word out, vendors will need a way to register. Make sure you've got a strong, straightforward vendor registration form on your website. You can check out our fully-customizable vendor registration form template.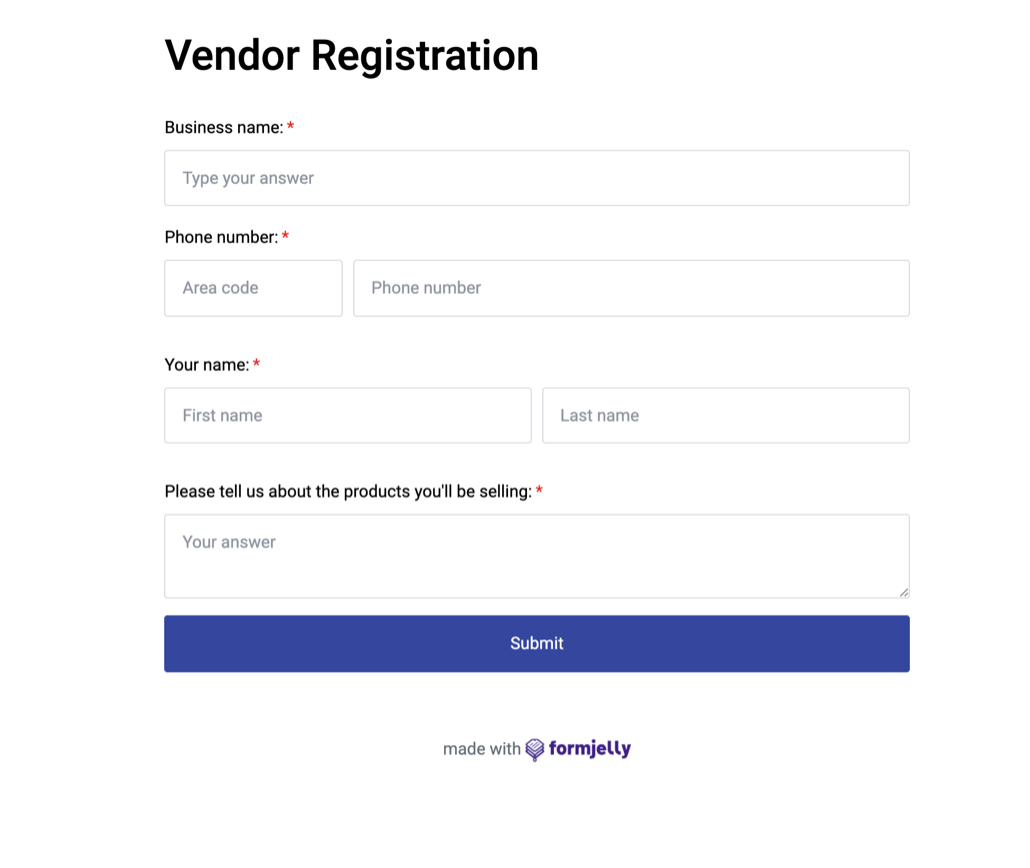 2. Consider The Best Ways to Reach Your Specific Audience
Every organization and every event is unique, so you'll need to factor that in when determining the best ways to reach the niche audience that will be excited about your event.
How do you reach users who you aren't yet connected to?
A local ice cream parlor hosting an in-store tasting event might get significant traction by releasing an announcement in the local paper (online and in-person!), or having a local influencer with 10,000 followers share the news. Working with a local collaborator to help pull in their audience is also a winning strategy.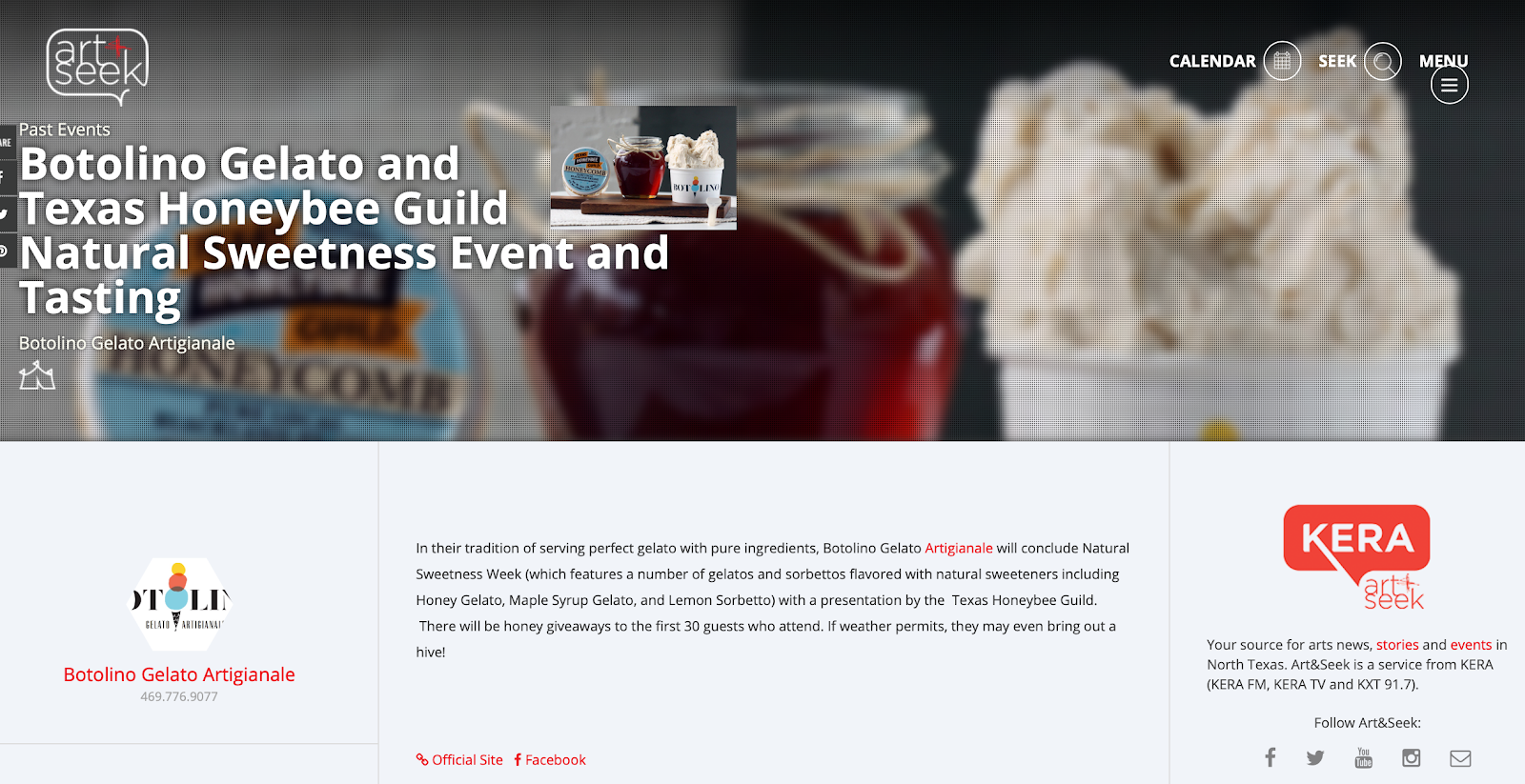 A marketing agency that's hosting a conference, on the other hand, may do best using LinkedIn ads, posting on LinkedIn and industry forms, and gaining leverage from the comments that can boost visibility. Reaching out to industry-respect influencers to sign them as speakers would be a game-changing move.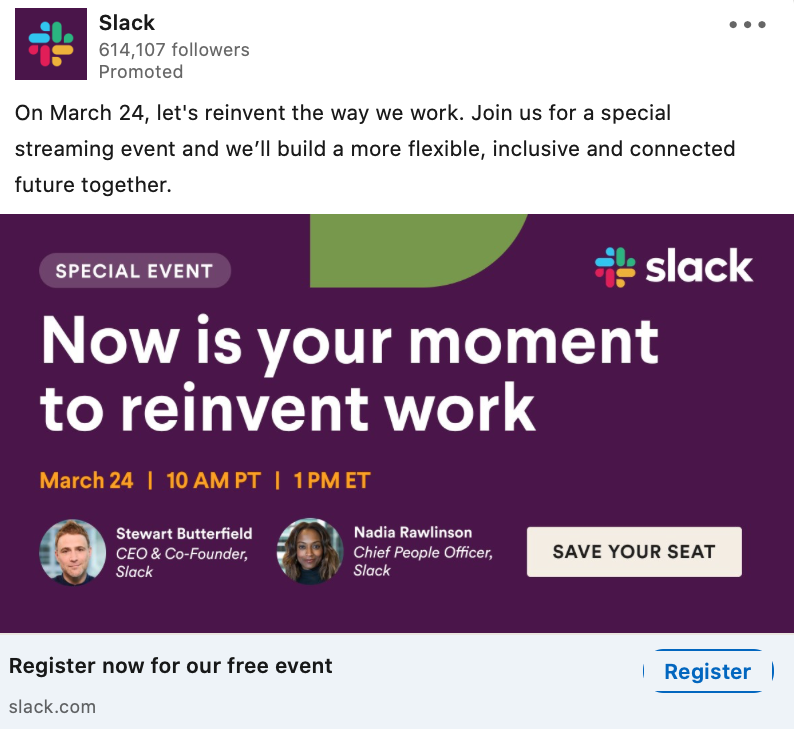 Get creative. You can send out press releases, ask others to share in local groups online, host social media contests to offer free access to the lucky winners, leverage a referral or affiliate marketing plan, and so much more.
3. Create an Event on Facebook
Facebook Events is an amazing feature no matter what type of event you're hosting. It gives you major momentum with your visibility and it gives interested event attendees a place to ask questions.
Whenever someone sees your event pop up in their feed, they can choose from positive options like "Interested" or "Going." If it's a public event, all their friends list can see if they mark themselves as "interested" or "going."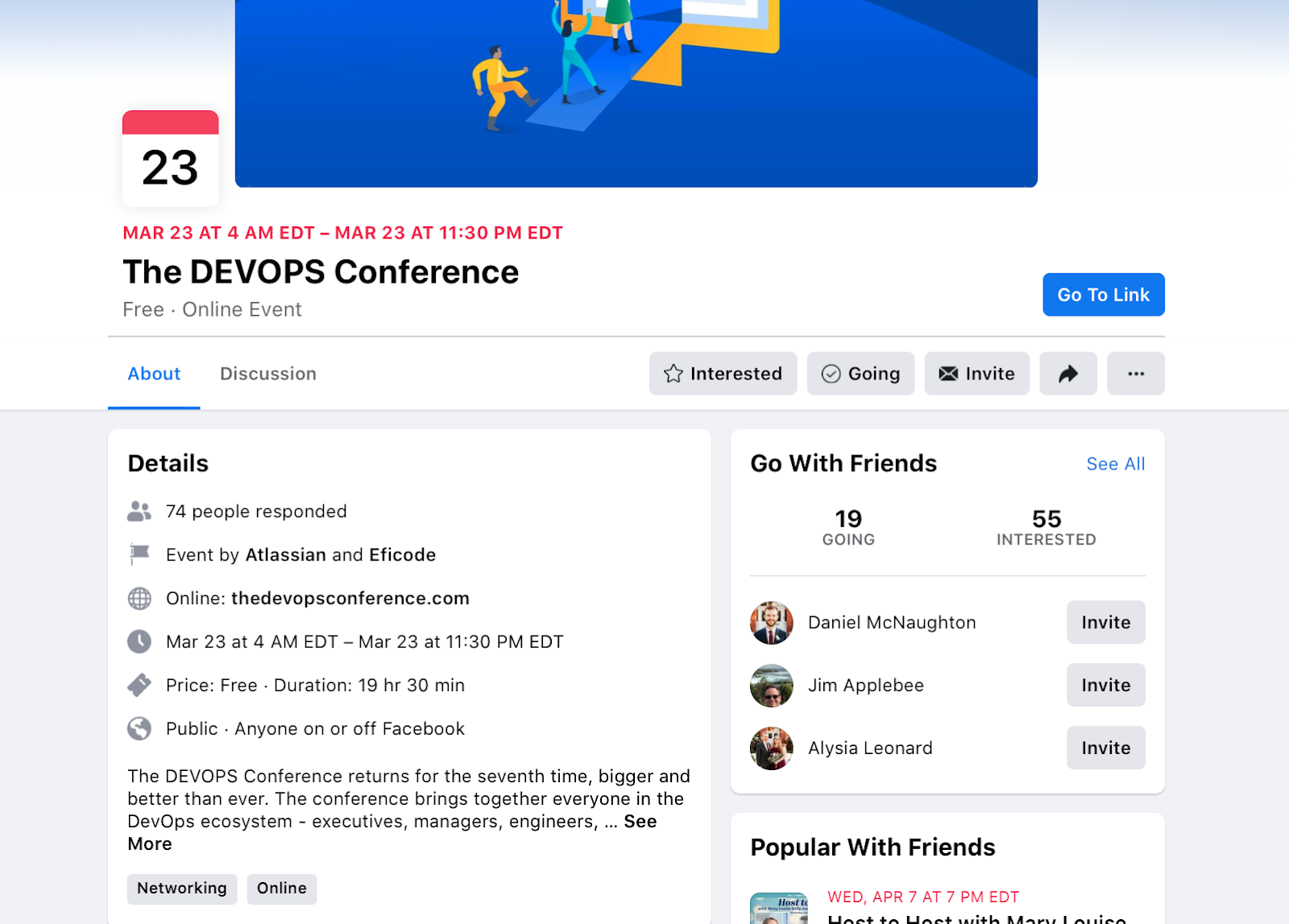 Since their friend list is made up of people who have something in common with them, this can help you extend your reach to more users who may be in your target market. And, even better: You're reaching users in your target market who see that "interested" tag as a vote of confidence.
This can have a snowball effect as people see "interested" and mark themselves as interested or going themselves. The momentum can be exceptional, leveraging the power of social proof.
4. Email Your List
If you want to boost registrations and attendance, it only makes sense to start with a warm audience who is already interested. Using your email list is one of those go-to event registration strategies that all brands and organizations should use.
Send out an email blast to your list, which sends users to a dedicated landing page just for the event. It should explain what they can gain by going to the event and offer a link to a secure event registration form (which we'll talk about more in a minute).
If you're worried about attendance being low, you can always send your subscribers exclusive offers like early bird or loyalty discounts. You can also offer referral benefits so that they get access to a free event or a discount on a product if someone they refer signs up for the event.
Make sure you're sending out emails at every stage of event promotion, including:
When you first announce the event
When tickets purchase or registration is available
Whenever sales, discounts, or special parts of the events are available
Last-minute reminders to buy before registration ends
5. Run Ad Campaigns
Running different types of paid ad campaigns can increase event registration and attendance because it expands your reach to your target audience tenfold.
You can use platforms like Google Ads and Bing Ads to capture high-intent searches like "marketing conference," ensuring that they see your event at the top of the search results page. The ability to grab users while they're actively looking for an event like yours is invaluable.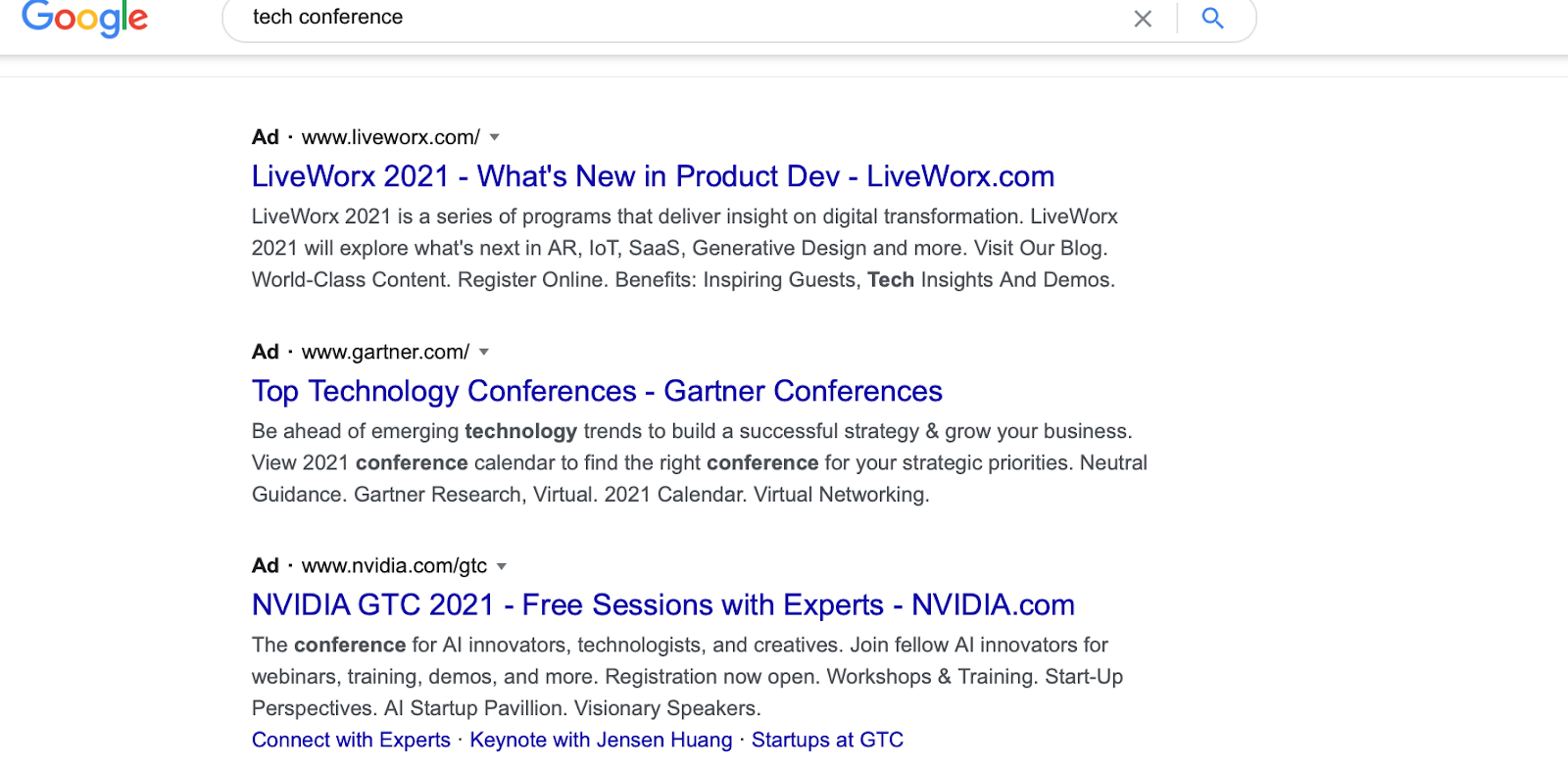 You can also create demand with platforms like Facebook and Instagram Ads, LinkedIn Ads, and even Promoted Pins. These platforms can help you reach cold audiences with information about your event.
When using ad campaigns, make sure to highlight the value and what makes your event different. For example, you can list the name of speakers that will be coming or any other benefits attendees can receive.
It's also important to note when users must register to get early bird pricing (if available). Or when they need to register to guarantee their spot. This can convince users to register now by creating a sense of urgency.
6. Be Specific About What People Will Experience
The devil is in the details, and if you want to boost event registrations, those details matter.
Unfortunately, many users have attended events in the past that have fallen a little flat. If they're going to put the effort into registering (even if it's a free event, but particularly if it's a paid one), then they need to know it's worth it.
If you're hosting a paid dumpling-making workshop, for example, show pictures of the types of dumplings that you'll be making. Explain that you'll cook the dumplings in realtime alongside participants, who can ask questions as you go.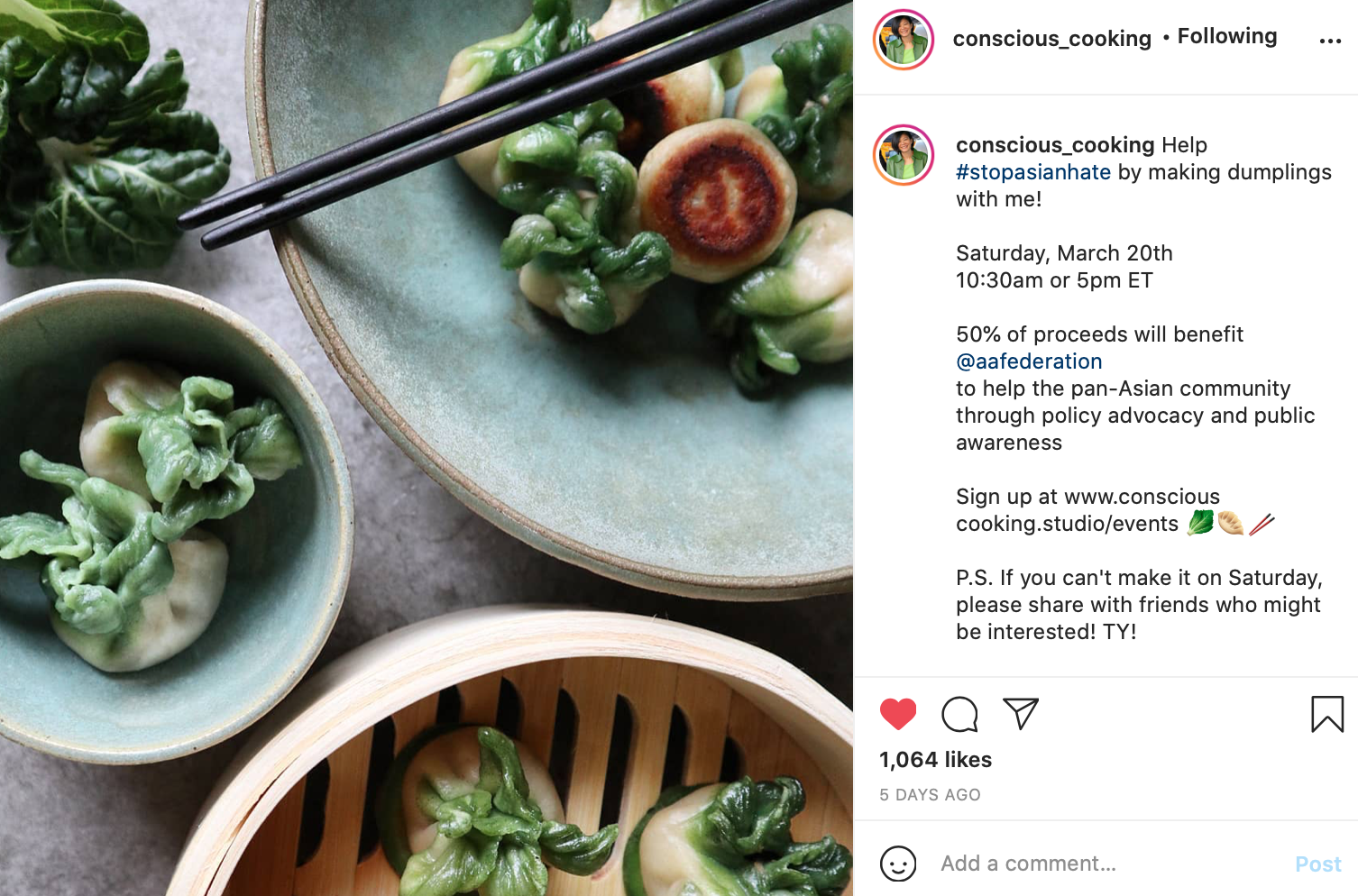 If you're putting together a mega-conference, list the speakers and key topics of discussion. You can also share a list of networking events or special classes that will be available. Putting a schedule online as more information becomes available is a smart choice.
Whenever possible, use pictures, videos, and graphics to help get your point across. Visuals can carry an enormous amount of weight because they can help people get a better feel of what to expect.
7. Have Easy-to-Use & Secure Event Registration Forms
If you don't have reliable, straightforward, and secure conference registration forms (or any type of event registration form), you won't get registrations.
When users click to your landing page where they can register for your event, they need to trust that their information - like their name and email - will be kept private. For users who are concerned about data storing and usage with platforms like Google, this can weed out Google forms or other third-party options that aren't as secure.
Choosing a privacy-focused event registration form is crucial. We can help. Formjelly offers secure online form builders that can be sent as links or embedded on your site for convenience and flexibility. We use end-to-end encryption, so the only person who will see the registrant's information is you.
Check out our template to get started building a secure conference registration form, and if you're hosting an online webinar or event, you can check out our webinar registration template.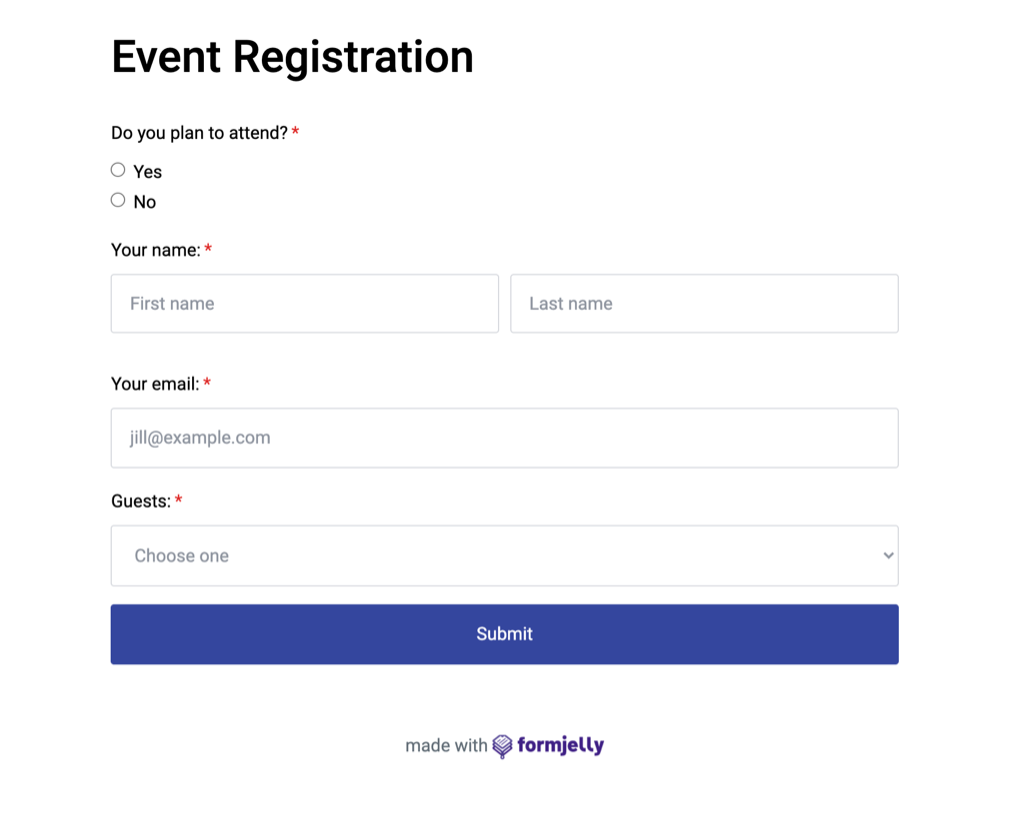 8. Share Clips of Past Events
If you've hosted similar events before, look through the media you collected. Do you have images, videos, or even attendee testimonials?
If you have videos from past events, share clips on social media and even on the event landing page. Video snippets of charismatic speakers on stage, of attendees pouring into the event, and of networking opportunities between vendors and attendees can go a long way.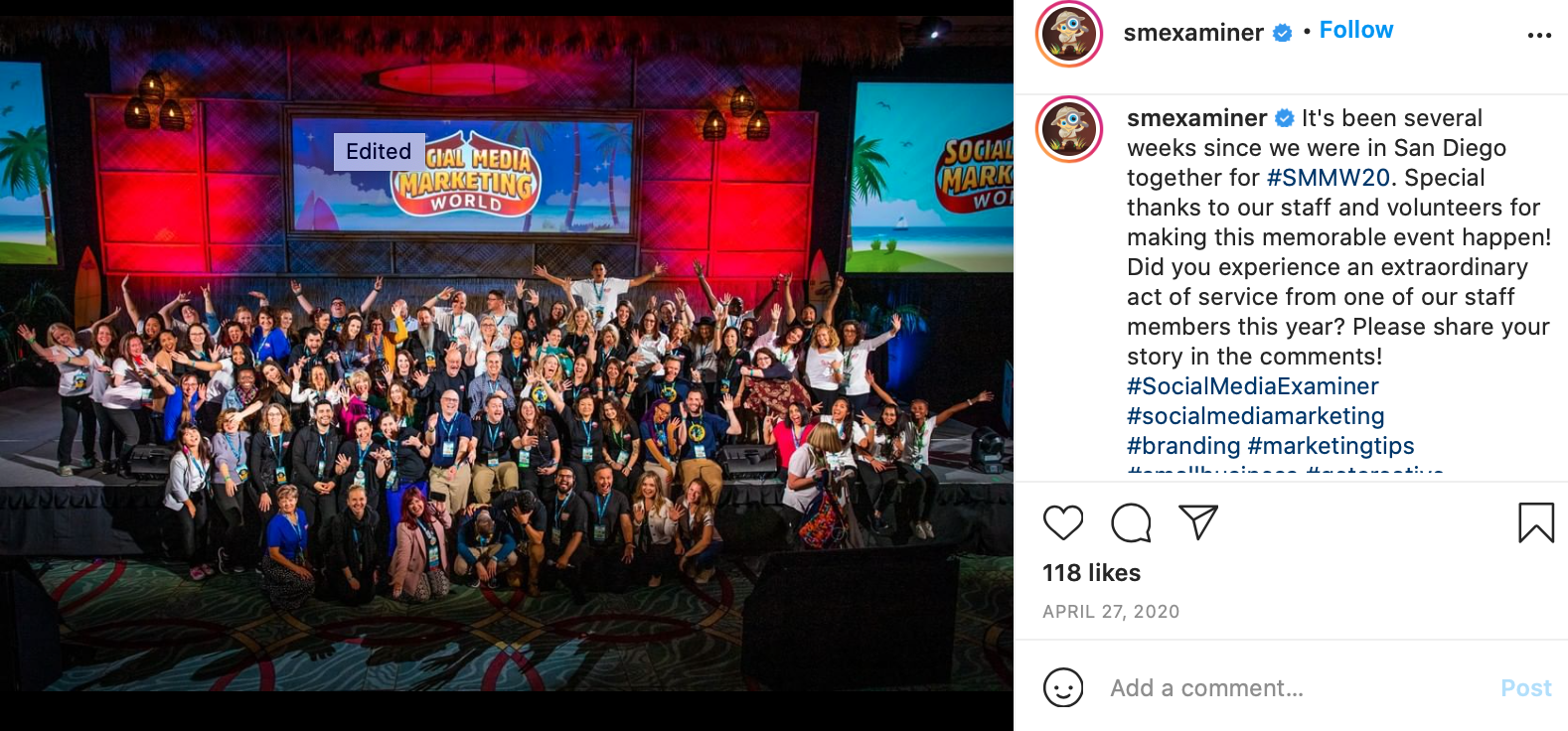 Even if you're hosting a local niche event like a painting class, share videos! It can dispel doubt and get users excited about what they're signing up for.
This event registration strategy can be what convinces users to hit submit on that registration form.
Final Thoughts
Putting an event together is no easy task, which makes it even more important that you're getting the most out of it by maxing out your attendance.
These event registration strategies and tools like secure event registration forms can go a long way in boosting registrations and attendance alike.
Need help creating a registration or vendor form for your event? Try Formjelly for free here.