If you build it they will come.
When you're working on your product it's easy to think that all you need to do is build it. The users will follow. Field of Dreams marketing.
Unfortunately, it just doesn't work that way.
Everyone wants to have a successful product launch. But for anyone who's launched a product to crickets - including me - your biggest challenge isn't the product. Of course, it's important to have a great product - that's table stakes. The bigger challenge is building an audience. Finding people who are interested in what you're creating.
Nothing extinguishes the fire of motivation like failing to find users. And on the other side, nothing is more energizing than people using the product you just launched.
Build your audience
There are plenty of different mediums you can use to build your audience: Twitter followers, blog readers, YouTube subscribers. Any audience is better than no audience, but generally, the best kind of audience to launch your side project to is a list of email subscribers. Despite more competition than ever not only does email still work, it's tough to beat.
If you're just getting started and need a reliable email subscriber form to build your list, our free mailing list template is a great place to start.
Once you've got your form ready to go, it's important to make it easy for people to subscribe. Use a clear call to action encouraging people to sign up and embed the form directly on your blog or website. If you can't embed it, add a link to the form instead.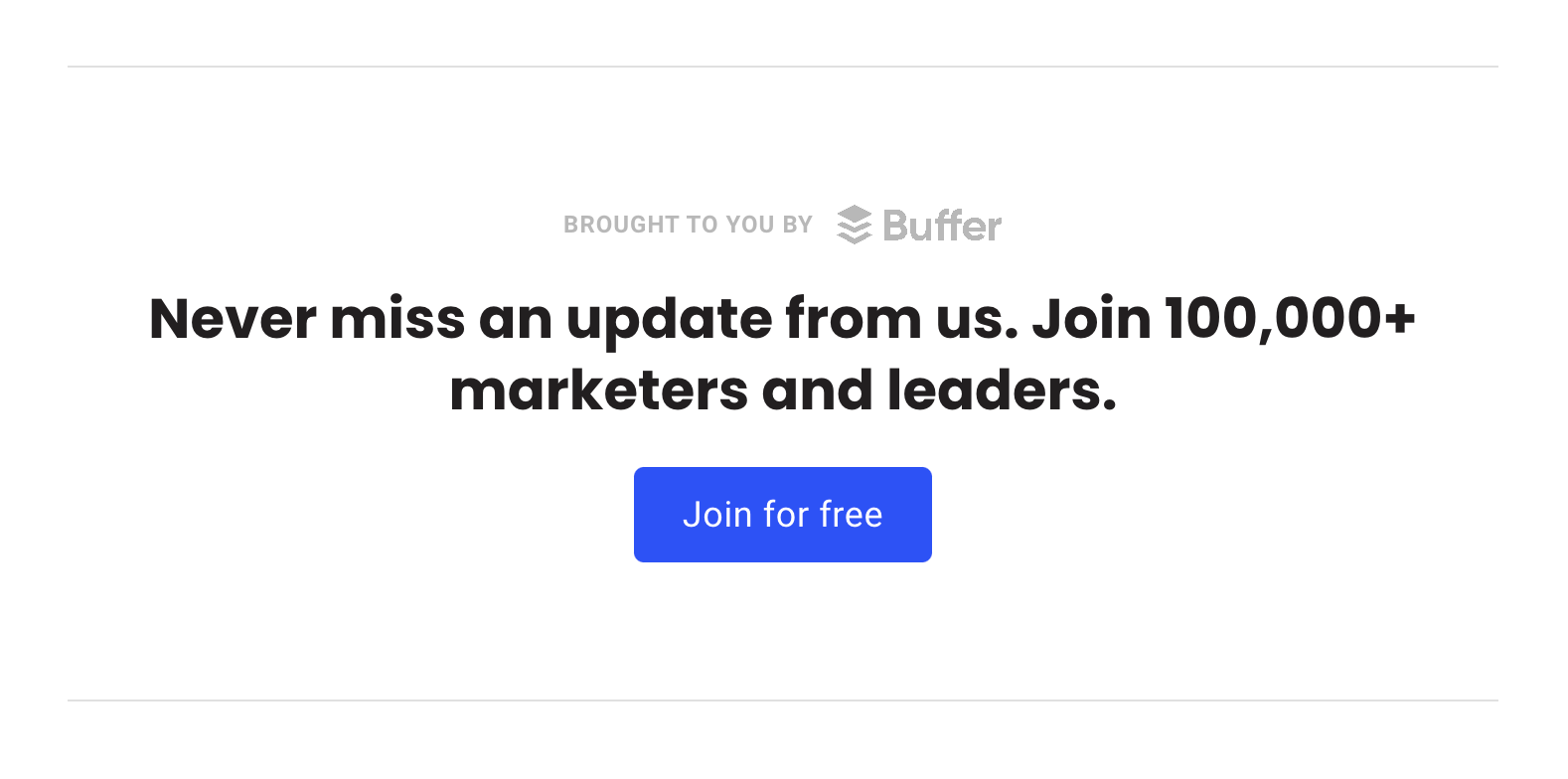 (Newsletter signup call to action from Buffer's blog.)
When you're getting subscribers, always try to improve conversions. For example, if you're not getting as many subscribers as you want, try to incentivize signups by offering a discount to your service.
After you've created a way for people to subscribe the next step is to grow your list. To do that you need to find people who are interested in what you're building.
Find their watering holes
Finding an audience for what you're building is challenging. There's no one-size-fits-all answer. Bakers hang out in different places than dentists. You need to find where your users are.
Just getting started? Here are a few common places to begin your search.
Reddit: Subreddits are incredibly useful communities full of passionate people. Before posting be sure to read and follow the community guidelines. And always contribute something of value.
Forums: Whether you're building a product for candle lovers, classic car aficionados, or hobbyist woodworkers there's an active forum you can join. Forums are fountains of knowledge. Read through threads to get a better idea of what people want and how your product can help them. Remember to get involved and follow the forum rules before posting. You don't want the first impression of your product to be spam.
YouTube: Google is the biggest search engine on the planet, but did you know the second largest is YouTube. Start a channel and create videos that show off your product. This can be a great way to not only build an audience but help educate them on your product. For example, Veed.io has used its YouTube channel to help grow revenue to $3.3M/year in less than two years.
Offline: The internet is great, but sometimes you need to go offline to find your audience. Is there a local meetup your audience may attend? Go and show off what you're building. If there's not a meetup maybe you can start one.
Final thoughts
Don't spend 100% of your time building your product if you don't already have an audience to launch to. Take an afternoon and put together a landing page and signup form. Then share what you're building. It's easier said than done, but if you do it could mean the difference between a successful product launch and launching to crickets.