Student registration forms are incredibly important to educational organizations of every kind.
Universities can use them to capture interest from high school prospects. Grade schools need student registration forms to sign people up for enrollment, and they're even needed to get kids registered for extracurricular activities, clubs, or field trips.
High completion rates on these registration forms are important. And to get high completion rates, you'll want to have a strong form.
In this post, we're going to walk you through the process of how to create a student registration form for your organization that's high-performing and high-converting.
Find a Secure Form Builder
Privacy and security should always be your top priority as an educational organization.
School systems are bound by strict privacy laws; even forms for after-school clubs need to take these security concerns into account.
Keep in mind, too, that many student registration forms ask for sensitive information like medical history, vaccination records, behavioral information, address, and social security number. This information is protected by law, so it's crucial to choose a secure form builder that prioritizes privacy.
Formjelly can help you here. We have fully customizable online forms that put privacy and security first. We use end-to-end encryption and we don't share your data with anyone; the only people who can access the data being sent are the person completing the form and a qualified school administrator.
You can take a look at our template here: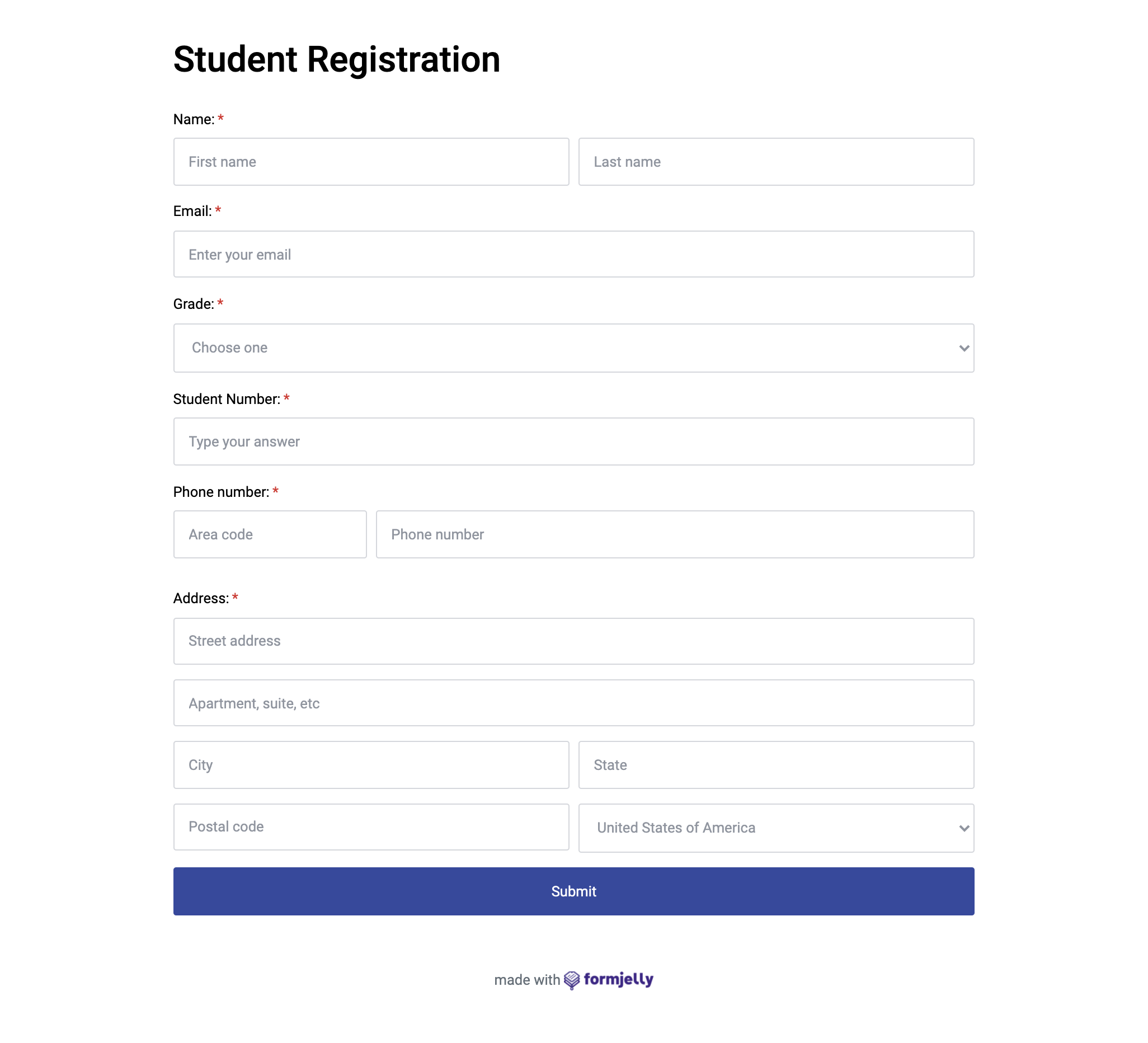 Know What Information You Need
After finding a secure form builder, it's time to start assembling the form itself!
To do this, think about the information that you need to collect. This may include the following:
Student names
Emergency contact information
Considerations for special needs
Identifying information like social security number or student number
Student contact information
Depending on what the form is for, you may also need to collect additional information.
Colleges, for example, may ask if students want to live on campus, how many college credits they already have, or what major they're interested in. Student registration forms for activities like school sports, on the other hand, will ask about whether a physician has been obtained and for parental permission.
Choose a Clean, Clear Design
When creating an online student registration form, you want to make sure that it's got a clean design.
Not only will this look great (and professional!), but it is also easier for many users to read and complete. This is crucial because a reliable form submission experience should be a top priority.
Include plenty of white space, use simple and easy-to-read text, and make sure to indicate which fields are and are not required. Finish it off with a clickable CTA button that uses color contrast to draw attention. You can see what this looks like with one of our Formjelly templates here: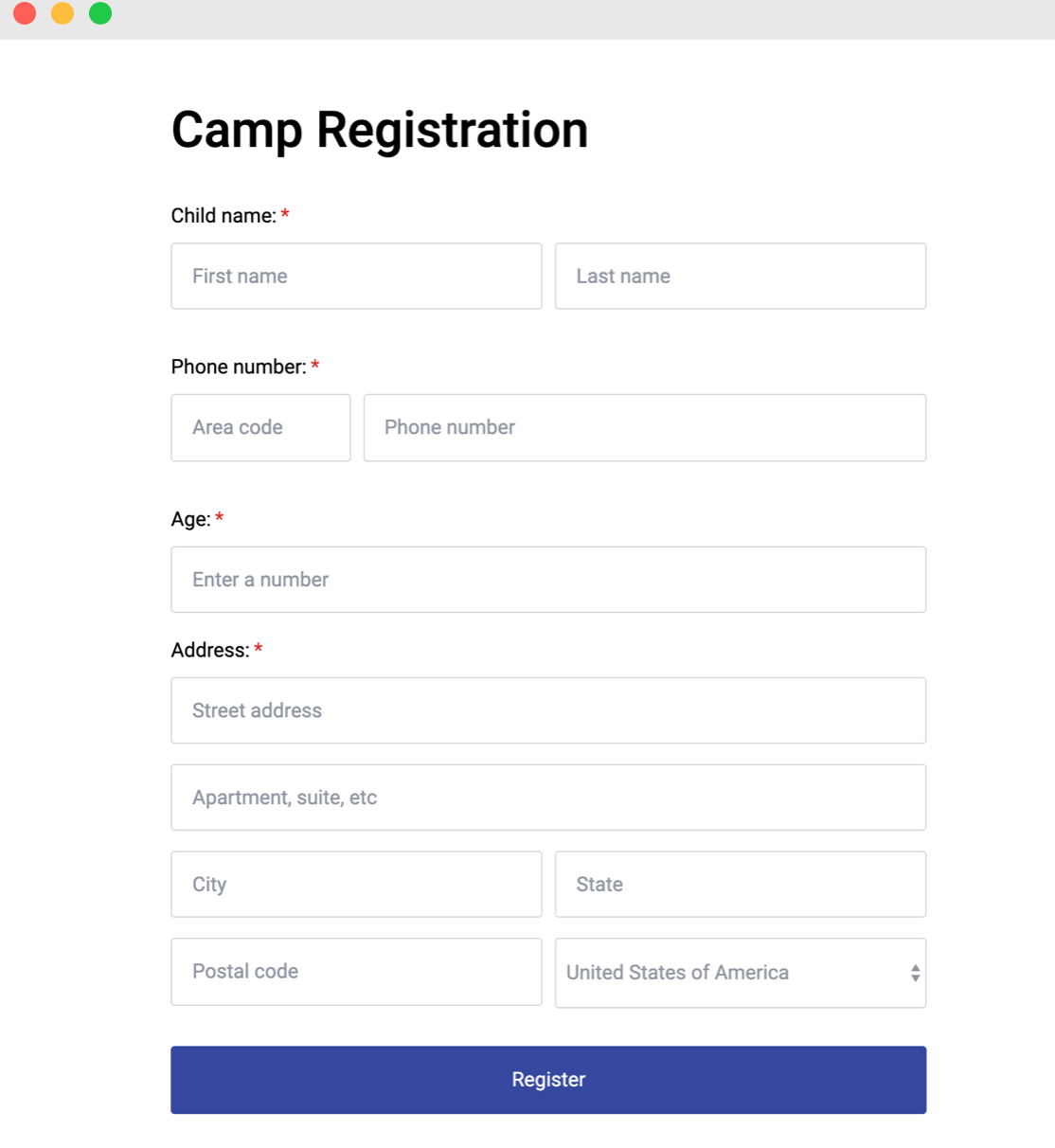 Place the Form in Multiple Locations Online
Do you know what your organization doesn't want? A million emails from parents who can't find the form online.
To make form completion and access easy, we strongly recommend placing it in multiple locations online, including (when relevant):
Each teacher's page
The school page
The grade's page
Links via email
Links on social media
Any page relating to the relevant school, activity, or field trip
The more access people have to the forms and the more people who can find them, the better.
Keep in mind that Formjelly allows you to embed your form on existing site pages, and you can also distribute the student registration form through links that can be shared in emails and on social media. Flexibility and far-reaching range are what we're all about.
Consider Creating Another Form for Non-English Speakers
Do you have a Spanish version of your site? If so, then include a Spanish form on their page.
You can also include links to forms in other languages in the email or on the site page underneath your primary form, or automatically send forms in other languages to users who you know speak them.
Inclusivity is crucial, and it's perhaps never more important than when it comes to a student's education. Forms for non-native or non-English speakers allow parents to better complete and access the forms while knowing that their child is welcome at your school.
Test the Form on Mobile
You need to have a mobile-responsive form, no matter what you're trying to get students to register for.
Mobile traffic accounts for over half of all internet traffic, and the reality is that even though forms are often easier to complete online, plenty of people are turning to mobile. The option to fill out a student registration form for their kid's field trip while they're sitting in their car waiting in the pick-up line? That's appealing.
It's also possible that some low-income families may not have reliable access to a desktop or laptop, instead of relying entirely on mobile devices. Some low-income families also have better internet connections through their phones than they do with computer-based internet, so mobile accessibility is more than just about convenience.
As a reminder, Formjelly is fully mobile responsive, granting an additional level of accessibility to your student registration forms.
Get Started with Our Student Registration Form Template
Are you ready to start creating your registration forms?
We know that educators and administrators have a lot on their hands, so we wanted to simplify the process. You can access our student registration form template and start a free trial with Formjelly for free here.
Looking to create mobile-responsive, highly secure and privacy-focused student registration forms for your school? Start your free trial with Formjelly today.