February 24, 2021 by Formjelly
Finding the right candidate for an open position can be exhausting. You need to create the posting, get qualified applicants to apply, conduct interviews, and then make an offer.
While finding that perfect employee-to-be is almost always difficult, one part of the process shouldn't be: setting up a job application form.
In this post, we'll look at how to set up a job application form that will keep applicant data secure while giving you all the information you need to find your next hire.
Choose Your Form Building Software
Before you can start creating a job application, you'll need to choose what software to use.
Since many job sites cost money to post listings - and because you may want to have the form present on your site - using a form builder instead of relying on a third-party job posting site is often a good way to go.
Some businesses use Google Forms, but Google's solutions don't exactly let you have full control of how the form's data is used. We strongly recommend choosing a secure form builder that cares about user privacy.
If you need a simple online form builder that prioritizes security and privacy, take a look at Formjelly. Our privacy-friendly forms are easy and fast to build, and we use encryption to protect your data.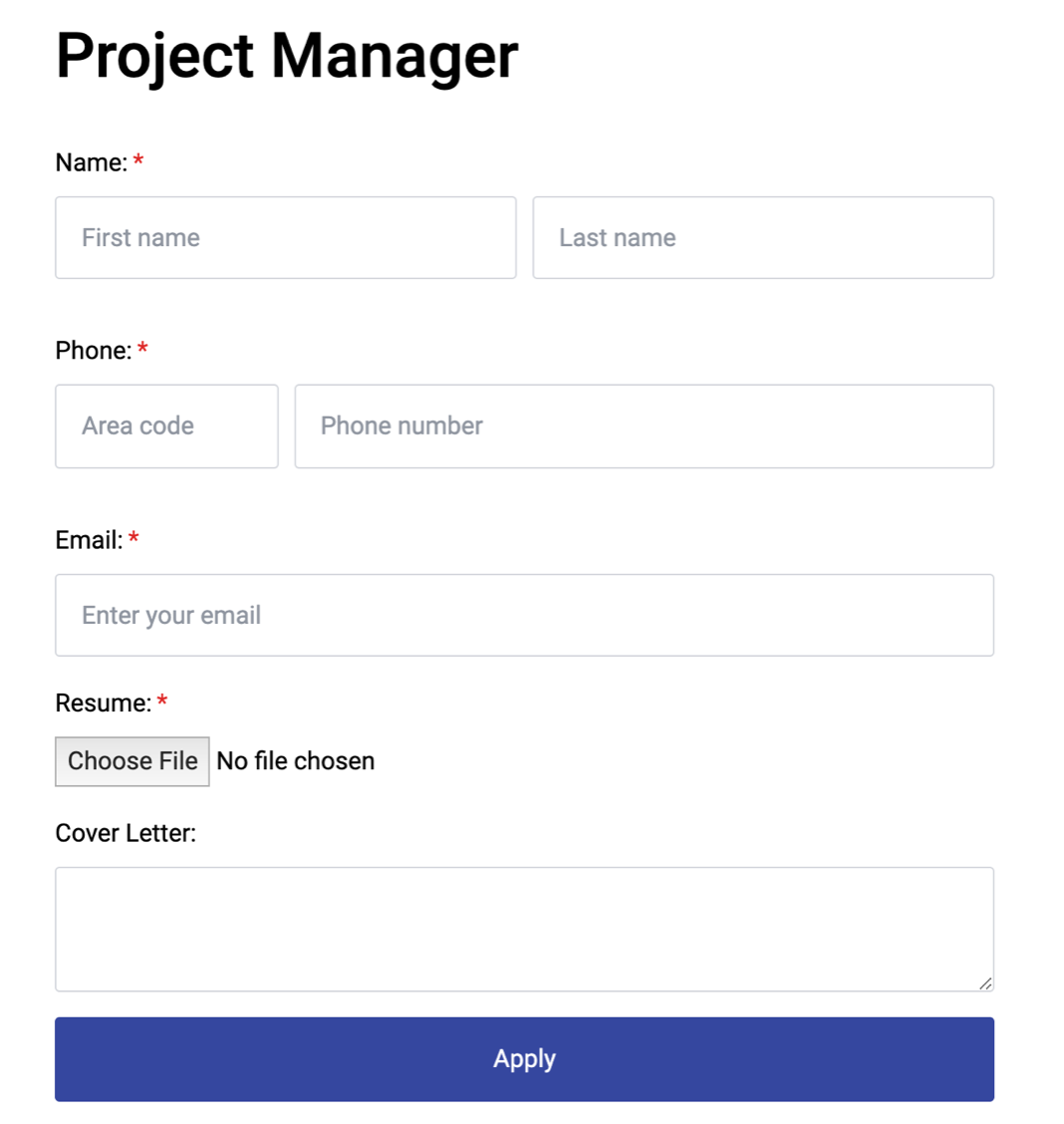 You can learn more about our secure form builder here or get started fast with our job application form template.
Know What Questions to Ask
When you're building your job application form, you don't want to treat it like a lead generation form that just needs the bare minimum information. Instead, you'll want to collect enough information here that it helps you get closer to a decision by filtering potential candidates out.
While the information you need depends on the job you're trying to fill, here are a few good ones to consider:
Name
Email
Phone number
An area to list special skills
An upload button for a resume
Confirmation about citizenship or eligibility to work status
Education information, including fields if relevant for industry-specific permits or licenses
Previous job experience
Requested salary information
An upload button or a blank field for a cover letter
Add Important Information to Your Application
Don't forget to add text blocks to your application page to remind people of important information, including the following:
The title they're applying for
A snippet of text about when they may expect to hear back if selected for an interview
When the application window closes
While you can always put this information on the page that describes the job opening, often users skim that information and then read the application more carefully. This can help prevent follow-up calls or misunderstandings, which ultimately gives you higher-quality applications to choose from.
Finalize the Application & Set It to Go Live
After you've double-checked your application to ensure it has all the fields you need and no typos, you can publish it to go live.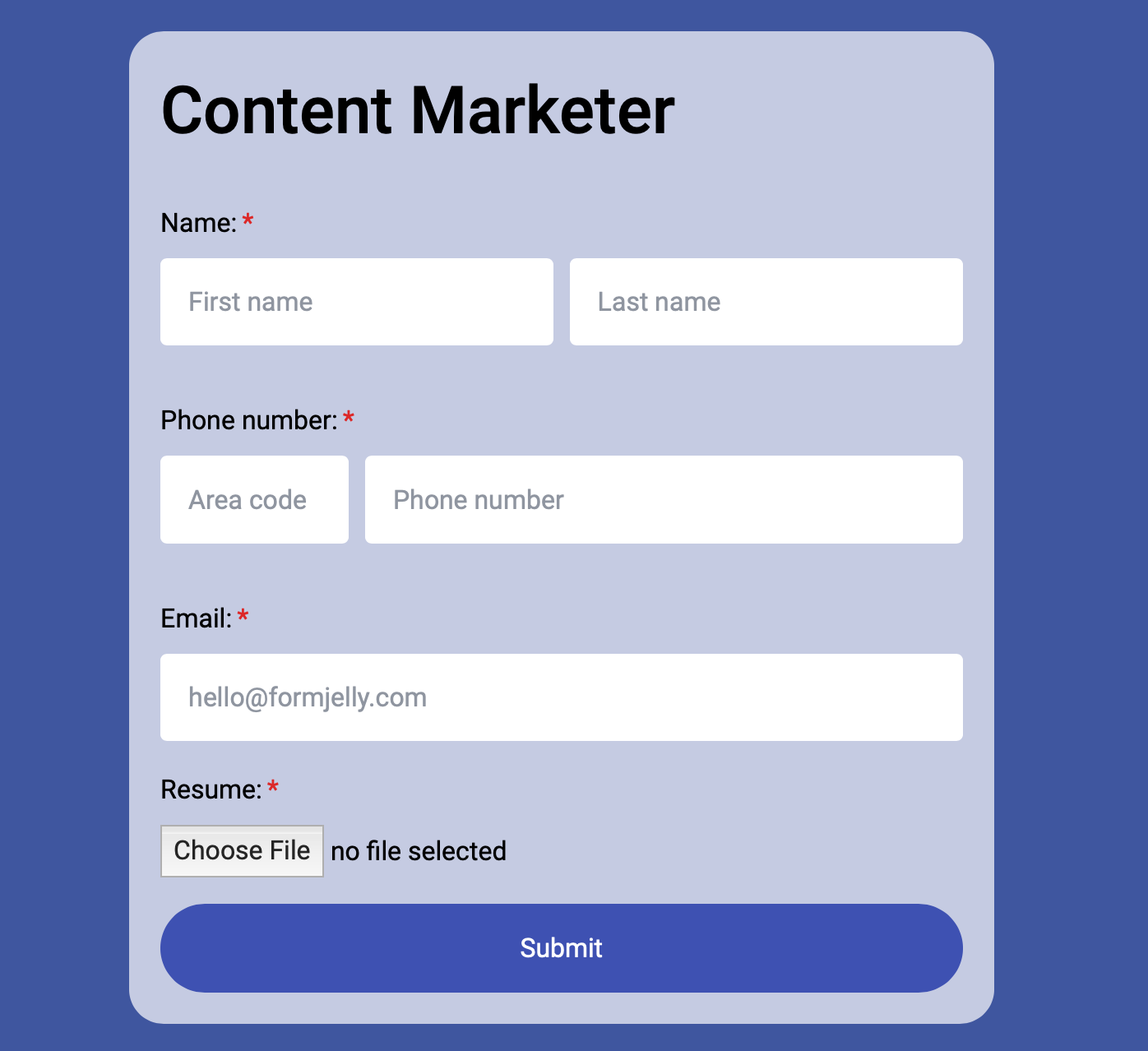 Once live, you can do the following:
Embed the job application form directly onto your site or share the link under the job description. This allows you to sidestep third-party sites completely, keeping user's data more private and potentially preventing them from referring top candidates to other positions.
Include it as the application form on job posting sites. If you do opt to promote your opening through standard job-searching sites, you can still have users fill out your form instead of using the third-party platform to do so.
Promote it on LinkedIn and share it on social. Sometimes your network can deliver the best applicants to you. Post on LinkedIn and social media that you're looking for a new team member and share the link to the form. Referrals often lead to higher-quality employees that stick around longer, so this is a great way to expand the visibility of your opening to find the right person.
Final Thoughts
While no one enjoys pouring over what can easily be hundreds of job applications for a single opening, having the right tools and systems in place can make a world of difference. You can ensure that you're getting the information you need before calling in the first round of interviews.
And remember that once you've got a basic form set up, you can easily use that template in the future, customizing it as needed to fit any new job openings. The sooner you can get the job application up, the sooner the right person can apply.
Ready to build a secure, privacy-focused job application form for your business? Start your free trial with Formjelly today.