Most businesses put an enormous amount of time, money, and effort into creating a strong lead generation funnel. They look at cross-platform strategies, run complex ad funnels on Facebook and Google, develop referral programs, and even show up to in-person events in hopes of getting more lead information.
They put all this work into getting users to that lead-generating landing page, but then forget to put the same care and effort into their lead generation forms, too.
This can derail your lead gen efforts in the blink of an eye because even though it seems like everything else in the funnel is what pushes users to convert, the lead forms can make or break the deal at the last second.
We want your campaigns to be successful across the board. In this post, we're going to look at 6 lead generation form best practices to increase both immediate form submissions and long-term conversion rates.
Why Your Lead Generation Forms Impact Conversion
Having appealing, easy-to-complete, and secure lead forms can dramatically increase the number of users who fill them out. You need your leads to feel comfortable that you're not asking too much, that the form is secure and won't lead to someone else getting and using their information, and it needs to be easy to complete.
Several studies show that the lead form itself directly impacts lead gen efforts, and may even reduce the cost per lead. One study, found that shorter lead forms decreased costs per lead by $10.66. Another showed that testing and optimizing lead forms lead to a 672% conversion rate increase.
Strong lead forms can increase your total number of leads while also giving you the information you need to qualify and later convert leads more effectively. This is all worth the extra effort, so let's take a look at a lead generation form best practices you should test.
1. Keep it Short & Sweet
Simple forms are almost always best when it comes to lead generation. You want them to have basic, straightforward designs and to ask simple questions that can be answered quickly.
Always ask for the lead's first name, last name, and email address. You can also ask for an additional 2-3 friends of information, but keep it simple if possible, utilizing drop-down menus if needed to simplify the process further.
You'll often see this with B2B brands asking for revenue levels, target ad spend, or the number of employees, where different ranges are listed to help sales teams recommend appropriate pricing structures right away.
2. Ask The Right Questions to Qualify Leads
We know that conversion rates can go up with shorter forms, but make sure that you get the information you need to properly qualify leads. B2B brands might ask for job title, company name, or company size, as you can see in our Webinar Registration template here: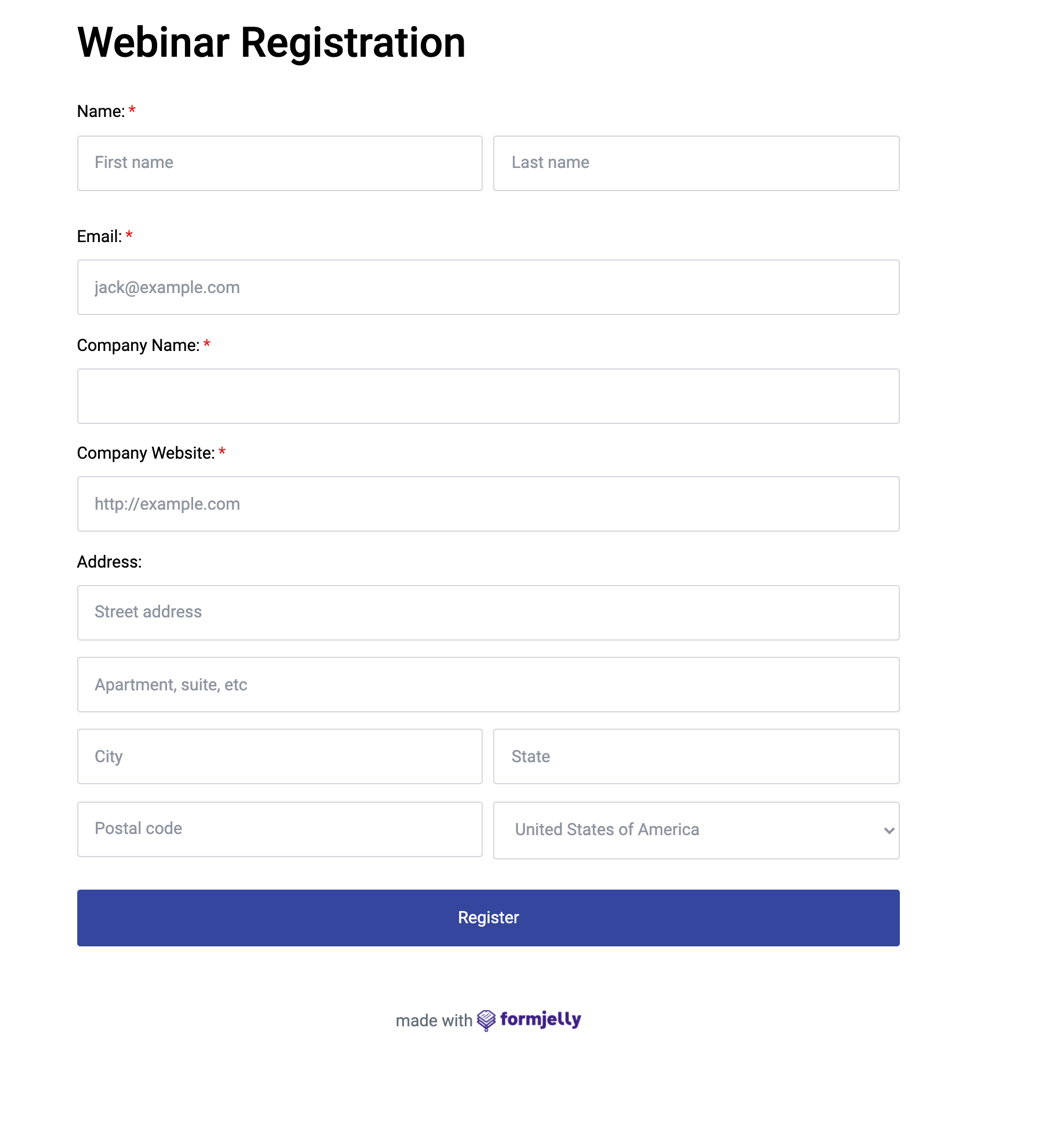 A catering company, on the other hand, might ask for the type of event, the estimated guest count, or the date of the event.
This can help you identify high-value leads right off the bat. If you're a catering company and you're booked the day of the event someone is inquiring about, you know it's a fast response. This is important because you want to be able to convert leads once you've got their information.
Keep in mind that if the information is truly relevant and customers can see how it will be useful, they'll be happy to share the information.
3. Choose Reliable & Secure Form Software
Unfortunately, not all forms are reliable and secure for many different reasons.
Some may not reliably deliver the lead's information once it's submitted. If they don't get an error message when this happens, they have no way of knowing you never got the form submission.
Others have major issues surrounding security and privacy. For example, they might share your data. At Formjelly we take your privacy seriously. You can read more here.
4. Make Your Value Offer Clear Next to the Form
While the lead form itself is important, it's also just as essential to make sure that everything around the lead form is working in your favor, too.
You'll want to make your value offer clear next to the form if you want to increase the odds of conversion, especially if you're using some sort of lead magnet to drive a conversion.
The example below is a great way to leverage free classes as offers B2C brands. They explain why the classes are so great, and then promise a free class while automatically using their site locator to find the closest class location to the user. The "Reserve your spot today!" CTA is also effective, using scarcity to drive the value of the offer home.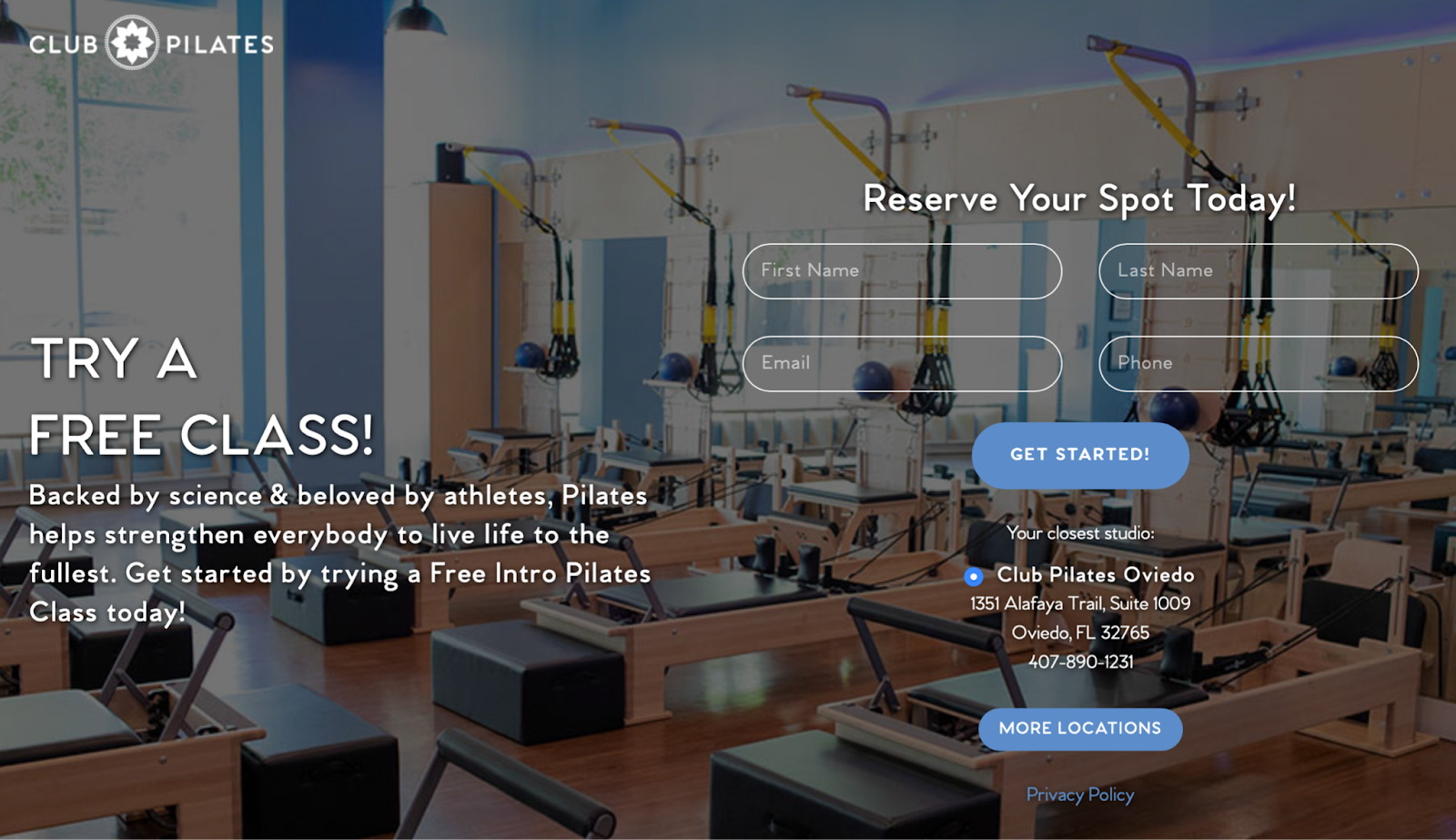 Remember to explain the "why" part again to users, even if they've just clicked on an ad to get to this page; why should they fill out that landing page, and what they'll get out of it.
5. Send a Thank You Email Right Away
Want to generate more conversions? Use lead sync technology to push all new lead conversions (including those from Facebook Ads and on-site lead forms) to your CRM and your email software instantly.
While you want your sales team to be aware of all new leads, it's important to send a welcome autoresponder series out ASAP. This can kick off the relationship with the new lead, and if they signed up for some sort of lead magnet or discount code, they'll gain access right away.
If you want to drive sales beyond lead generation form conversions, it's important to remember that you need to strike while the iron is hot and they're actively interested. If you wait too long, they might start researching your competition.
6. Split Test Your Forms
It can be tempting to create a form that seems to meet every single best practice we've detailed so far in this post and want to just stick with it. The best thing you can do for your lead generation forms and their conversion rates, however, is to test different versions of the forms to see what increases performance.
You can embed Formjelly forms directly onto your landing page, and then use a tool like Unbounce to split test two different versions of the same landing page which only feature different forms. These tools will then serve each landing page to users on an alternating basis so you can get a better understanding of which one is capturing the most users.
Split testing is particularly valuable if you're testing different offers, and to see how much lead information you can capture without seeing drop-off rates in form submissions. The goal is to get as much information to your sales team as possible while still maintaining a high number of incoming leads.
That being said, there's one caveat to note here: If you ask certain questions on your form that only your target audience is likely to answer, you may see a drop-off in leads because lower-quality submissions are choosing not to move forward.
As long as you're maintaining a stream of high-quality leads, this isn't necessarily a bad thing and it could be a way to filter out unqualified leads. Just make sure that you don't seem to be losing significant chunks of your target audience, too.
Final Thoughts
Lead generation forms may seem like a means to an end, but they're a vitally important part of your full lead gen funnel. If your forms (and your response to form submissions) aren't in top shape, you're likely going to see your ROI and direct revenue suffer as a response.
Take some time to check the health of your existing lead generation forms. Are they brief? Do they give your team the qualifying information they need to hit the ground running with strong offers? Have you tested your landing page forms, and are you using secure, privacy-focused software?
Every part of the process matters and lead forms are included in that. And fortunately, with the right tools and tips, they're easier to build than ever before.
Ready to build high-converting lead forms with a secure online form builder? Get started with Formjelly for free here.